Adding Vendors is a crucial aspect to the beginning of the process and doing it correctly from the outset will save you effort later on.
In order to add Vendors into The Guard you would first want to access the 'Associates' tab.

Be sure to place a pre-fix of BA in the 'Vendor Name' field, ahead of the Organization name for anyone who is a Business Associate (seen below).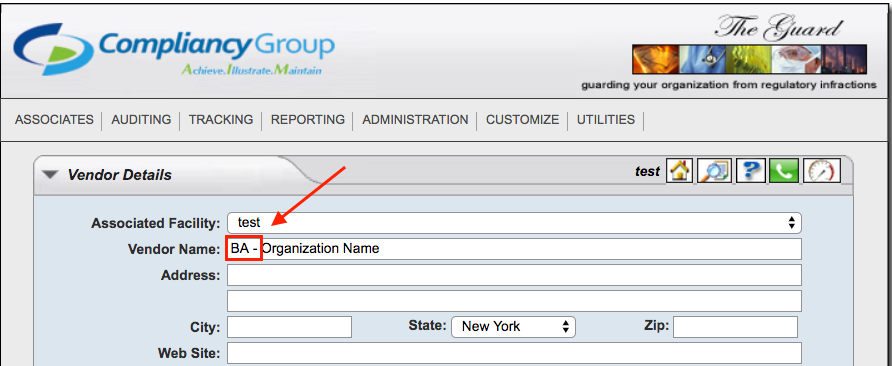 Upon populating all the information in the open fields, click 'Create New Partner' to save this Business Associate within The Guard. Any Vendor who is not a Business Associate should be entered into The Guard as well. The only minor differences when entering these Vendors from a Business Associate is that for a regular Vendor/Subcontractor you would NOT type BA as a pre-fix before populating their information and selecting 'Create New Partner.' Also, be sure to list the name of each Individual who enters the Facility, as opposed to the Organization they are from.
In the Modern Era, you'll find a fair amount of your vendors DO receive ePHI from your Organization. For these folks, we must ensure that we perform our technical due diligence on them to ensure they are also following best HIPAA practices.  Please read below for instructions on this –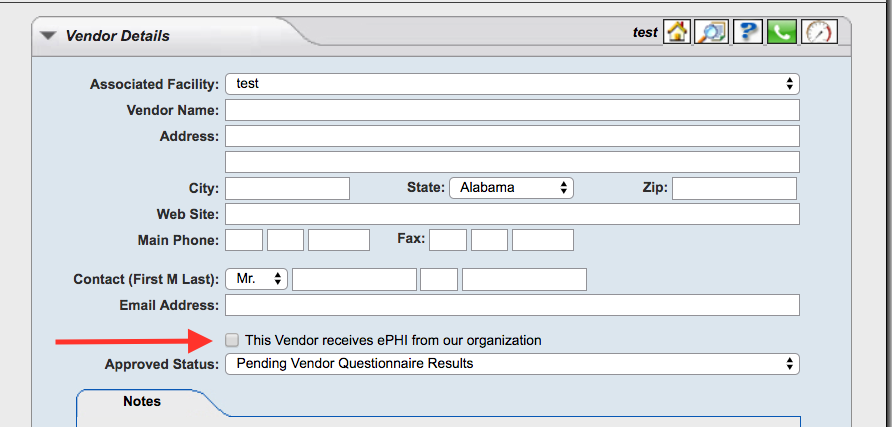 First, when building the profile, please check the box the arrow is facing above.
THEN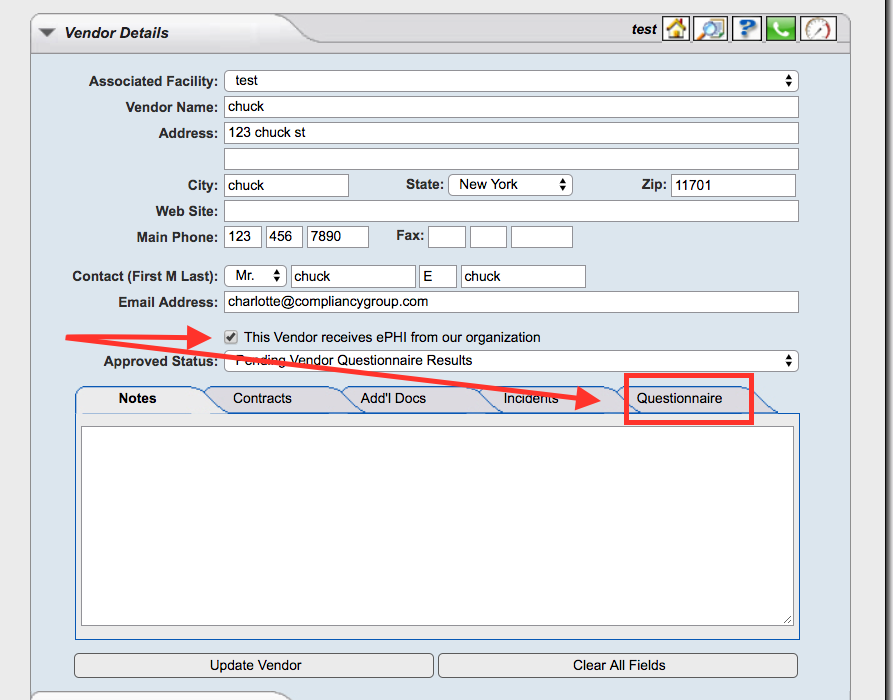 With that profile pulled up and the check box marked, please select the tab labeled 'Questionnaire'.

While in the 'Questionnaire' tab, please look down to your bottom-left and select 'Request Vendor Questionnaire'. Upon clicking that a dialog box will pop up, asking if you are sure you wish to email the vendor. Simply hit 'Email Vendor' to send the questionnaire and the Guard will score their test for you.
ONE CRUCIAL THING REMAINS!

 Documentation is KEY when vetting a BA. Upon sending the questionnaire, just be sure to note the date and time it was sent in the 'Notes' Tab and hit 'Update Vendor'.
Find out more about Getting Started >>
Find out more about Business Associate and Vendor Management >>
This ties back to The Seven Fundamental Elements of an Effective Compliance Program by "Developing effective lines of communication."