After you have downloaded the templates to your computer's download folder, you need to modify this document so that it is unique to your Organization.
First, open the file from your computer. The top portion of the document is a disclaimer which you would want to delete prior to finalizing the policy.

If you have a logo which you utilize for your Organization please feel free to insert that in the field marked 'Organization Name.' Otherwise, simply enter your Organization's full name.

The following dates will be the same, regardless of which template you are inserting them into. It may be helpful if you were to copy and paste them to the same area in each template. The 'Issue Date' and the 'Effective Date' are actually the same date and will be when the policies are put into effect. Consult your Compliance Coach if you are unsure of these dates, however, they are most often the first of the month following the one we are presently in. Whomever is doing the compliance work would place their name next to where it says 'Responsible for Review.' Last, 'Scheduled Review Date' is when you will re-visit this policy to make sure all aspects are still applicable. In most States this is two years from the date you inserted as the 'Issue/Effective Date,' except in States where it is one year. One year States (as of the date this article was published) are New York, California, Texas, Massachusetts, Michigan and Florida.

Copy the above text and paste it in the same area from policy template, to policy template.
Now, you will want to be sure to read the entire policy thoroughly. This is something you are enacting for your entire Organization and you need to understand it fully. You may reach a portion of the document that you do not understand, have questions about or just want explained in more detail. We welcome you to highlight these portions of the document in red so that when it comes time to review them along with you, both you and your Compliance Coach will know where to look at a glance.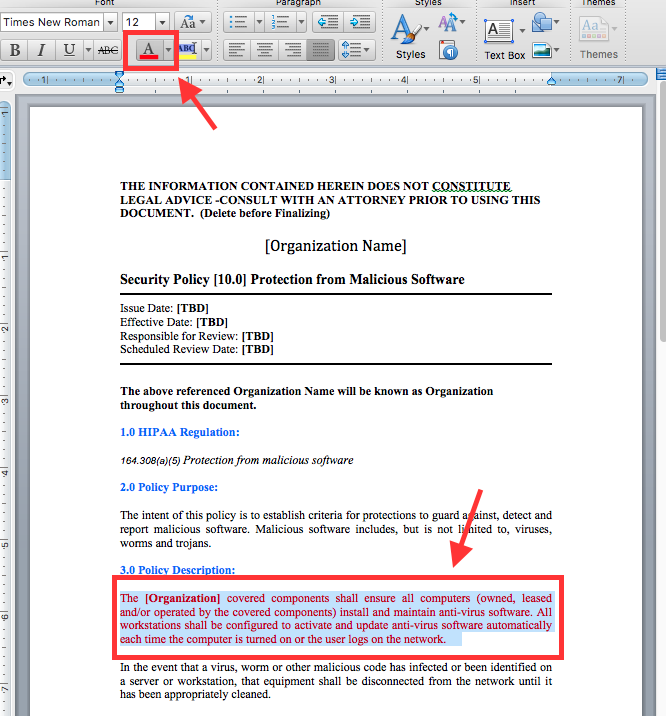 After highlighting all the areas of concern, you will want to place your name next to where it says 'Authorized By' and put your Job Title directly after. Feel free to delete the text which is italicized underneath when you are done, since those are merely instructions.

Find out more about Document, Employee and Training Management >>
This ties back to The Seven Fundamental Elements of an Effective Compliance Program by "Implementing written policies, procedures and standards of conduct."