(Note: This is a process which you should be working on ONLY after you have attended your Policy Review along with your Compliance Coach)
Now that you have completed your review of the policy documents found within The Guard, you will want to post them back within the System to allow the rest of your Staff to train on them.
First, you will want to navigate towards the third tab in for 'Tracking' then the third option down, '(Documents Version Control)'.

Once there, give a single click to the Security/Privacy folder below the line (on your left-hand side). From there, click the 'Upload' key to the bottom, bottom left.
The yellow upload window will now appear.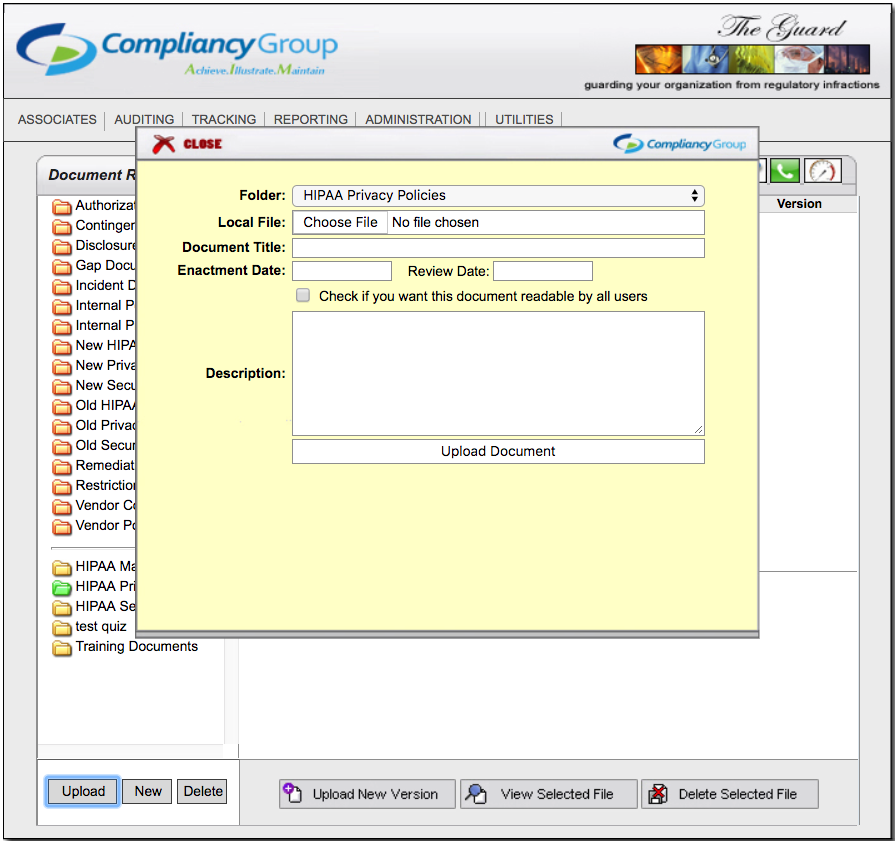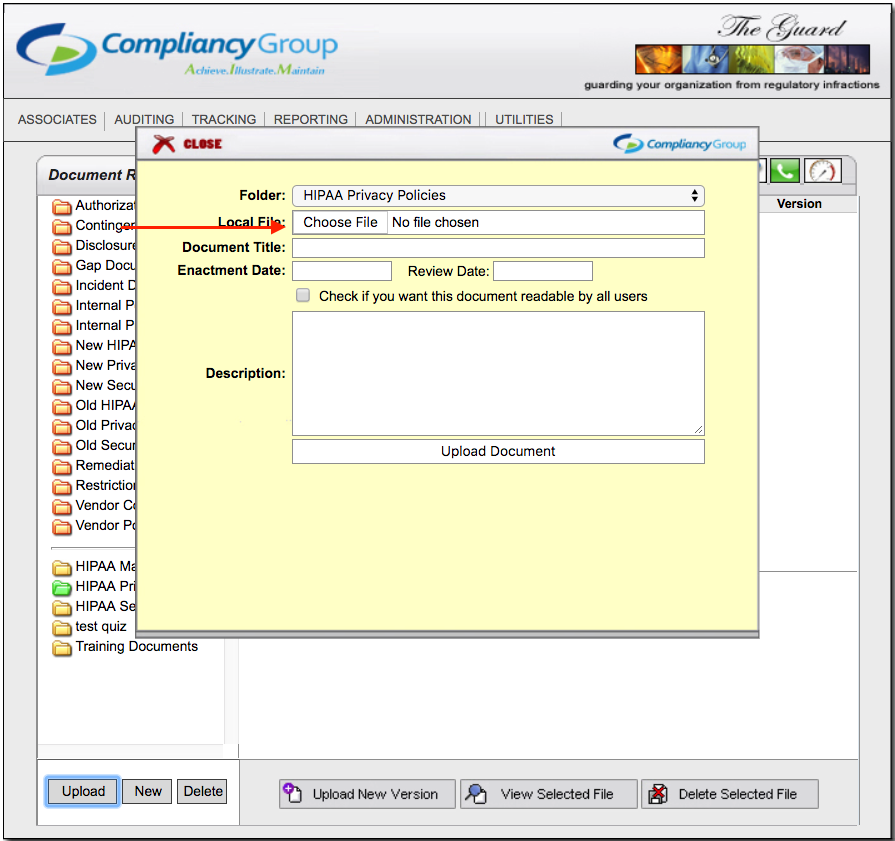 Within the upload window, please use the 'Browse,' or 'Choose File' button to pull up the contents of your computer and select the finalized policy.
 Your Title needs some special attention, since this portion of the process is different from how you have titled things in the past. You would want to place a qualifier in as a prefix. Let's say you are attempting to upload your finalized Policy for Accounting of Disclosures. This falls into the realm of Privacy and warrants a capital P sit in-front. Accounting of Disclosures happens to be the first policy within that Privacy realm, so your naming convention should reflect as follows – P 1.0 Accounting of Disclosures.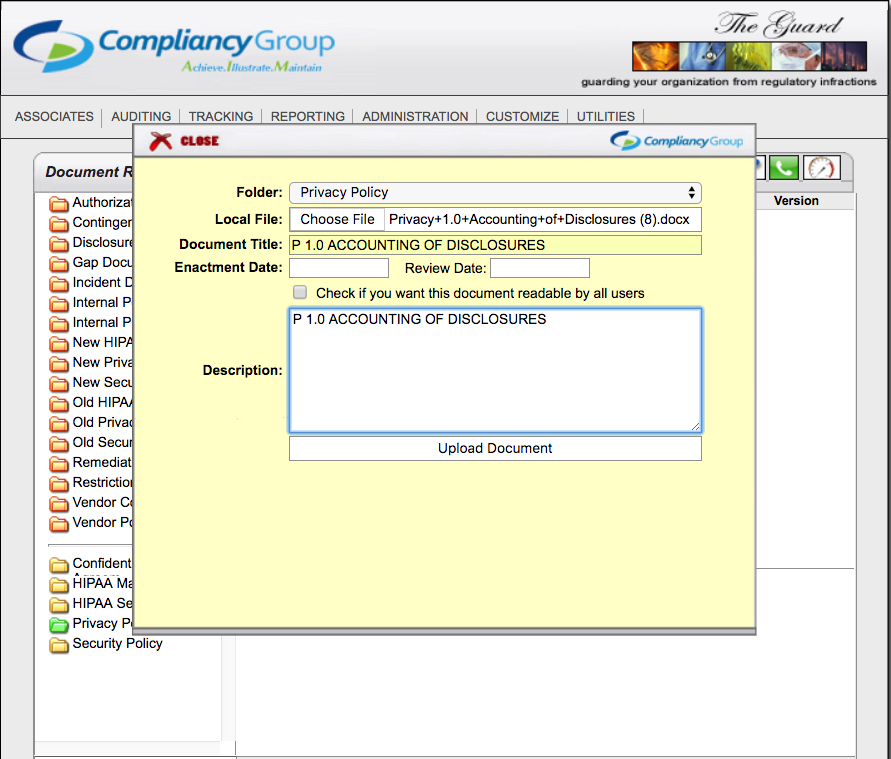 Now, you will want to copy and paste the Title into the Description field so that the two match as shown above.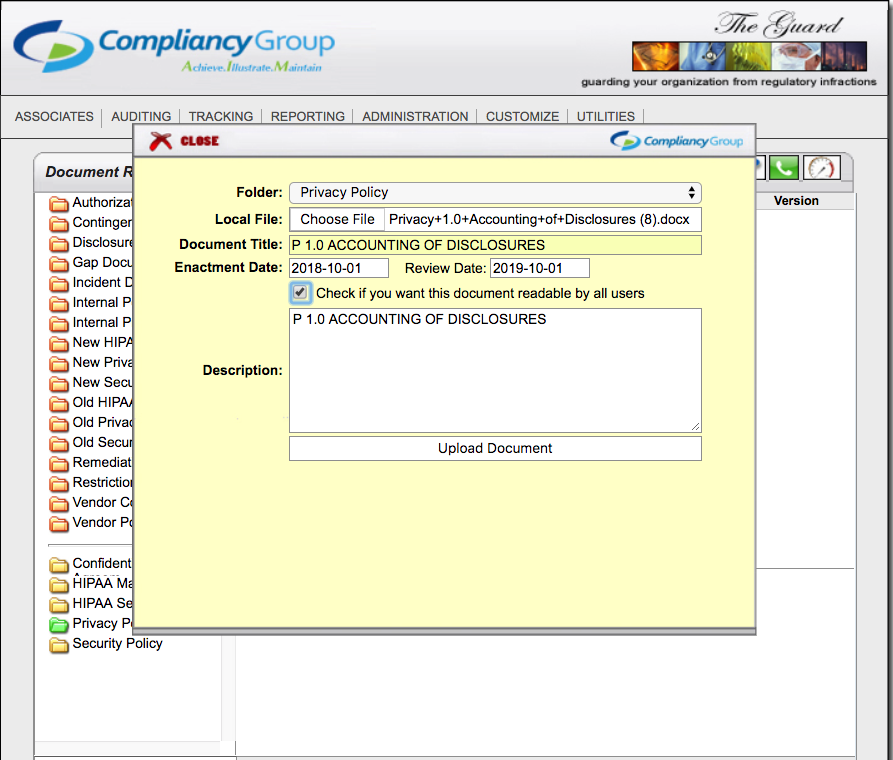 Enactment Date is the day you intend for the policy to go live and the Review Dates are one year following.
Finally, you will want to click the check box on that says 'Check if you want this Document Readable by all Users' and click Upload Document.
Your finalized policy is now properly loaded into The Guard and you are ready to begin Training.
Find out more about Document, Employee and Training Management >>>
This ties back to the Seven Fundamentals of an Effective Compliance Plan by "Implementing written policies, procedures and standards of conduct."