Meeting One
First, thank you for choosing The Guard for all of your compliance needs. We look forward to working along with you!
Below you will find instructions on getting started and what to expect from your first meeting with your Compliance Coach.
Logging into The Guard:

 First, please navigate to Compliancy-Group.com. Once there you will want to look to your upper-right hand side for the button labeled 'Client Login'. Upon clicking this button you will be brought to the screen below, which allows you to enter your e-mail and password in order to access The Guard.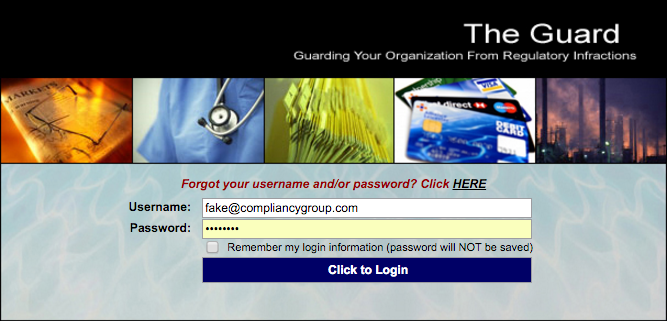 Upon accessing The Guard you will be brought to the Main Screen below. The items to your left will be important going forward in the process. However, please pay them no mind just yet. Instead, please click the green 'Launch The Guard' key you see to your upper right-hand side to be brought to the Dashboard.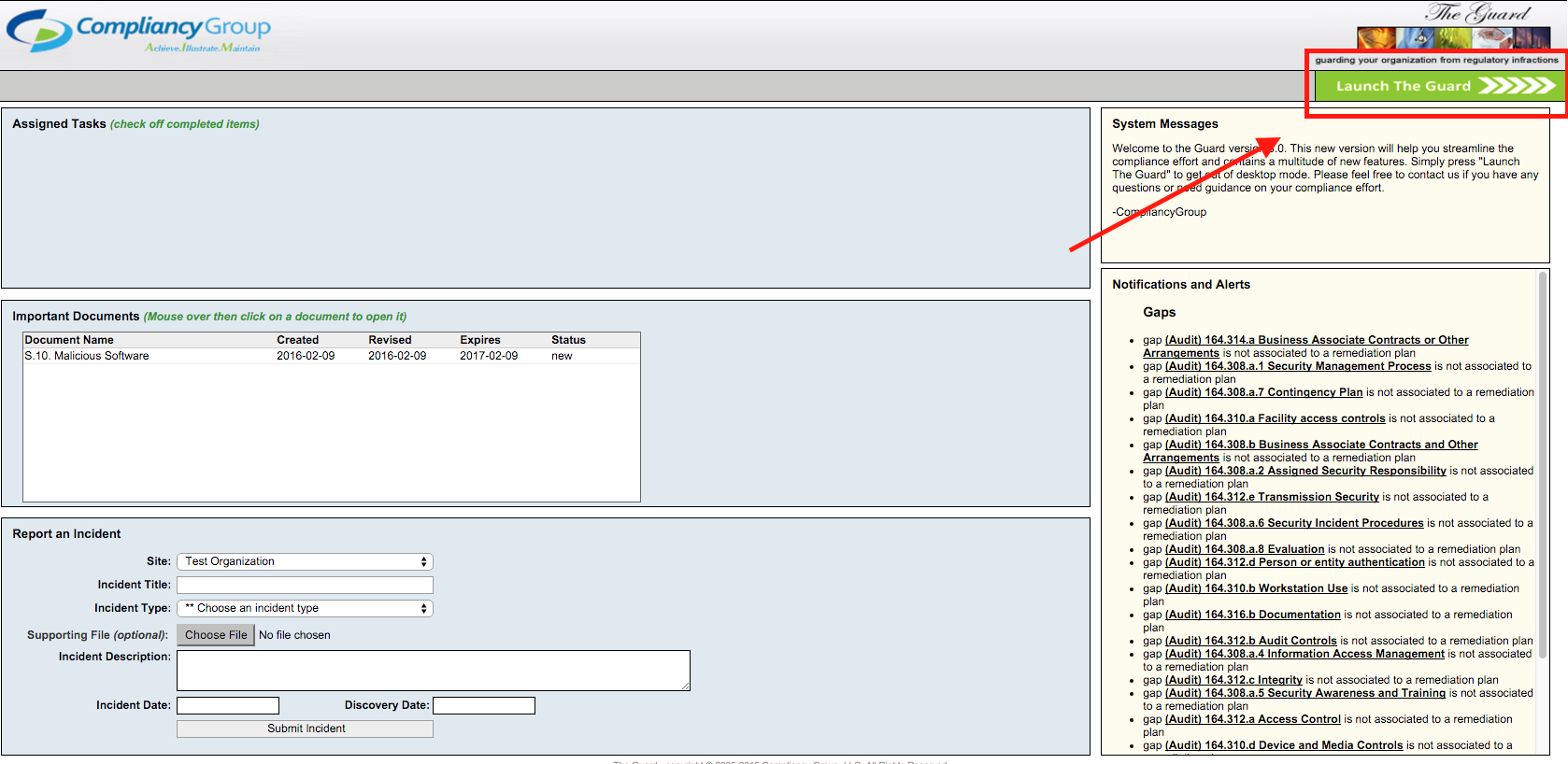 From the dashboard (seen below) you would want to pay no mind just yet to the contents found next to 'Gaps,' 'Remediation Plans,' and 'Incidents.' More information will fill within those fields going forward in the process, but it's contents are not terribly important off-the-bat. Instead, you would want to go ahead and begin work on your self-audits.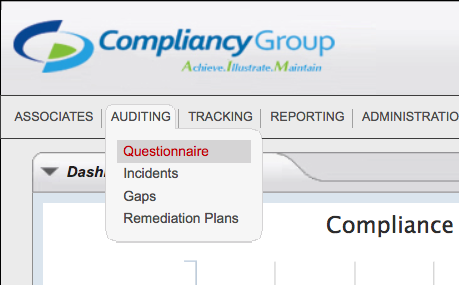 Your Compliance Coach set the frame work for these self-audits during your first meeting. Now all you need to do is answer the questions. Access the audit by clicking it so it highlights black, then click 'View/Continue Selected Audit' to view the questions.

If you do not understand any given question mark it as a 'No.' If you have only a procedure in place but not the policy that would be another instance where you would mark the question as a 'No.' Last, if you have both the policy and procedure but they are over three years old, please mark the question as a 'No.'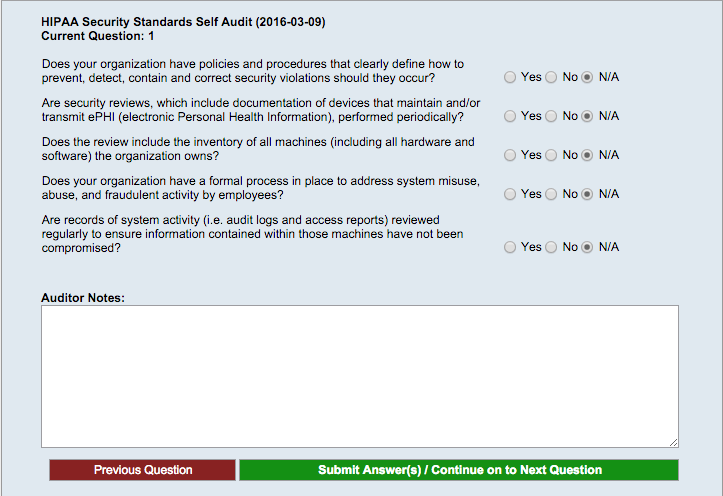 For any answers of 'Yes' please go down to the 'Auditor Notes' field and type in a brief explanation as to why that answer was in fact a yes for your Organization. After completing any given page of questions, click 'Submit Answer(s) / Continue on to Next Question' to move right along to the next page.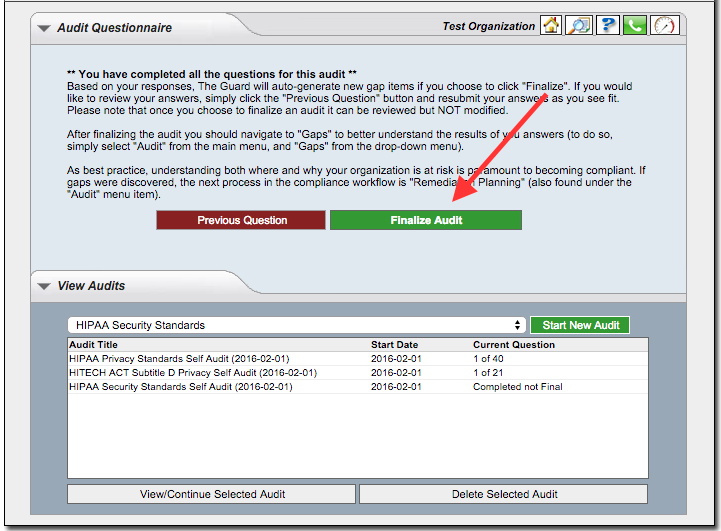 Upon completing the last question on the last page of any given audit you will be presented with an option to 'Finalize' it. It is entirely okay to go ahead and finalize the audit. However, once you do finalize the audit it is set in stone and cannot be modified. If you wish to review answers inserted prior to finalizing, though, just be sure to use the 'Previous Question' button.
Above is the first half of meeting one. Below explains the latter half –
Your Coach will go about e-mailing you several documents. You will find some training guides which you will find useful along the way. Hang onto them. Also, you will find the templates for our BAA's/CA's. This is more meeting two material and will be covered then. The most important aspect of that e-mail are the three MS Excel spreadsheets. Two specifically have IT in the title and should be forwarded to whomever performs your computer work. Very last is the Physical Site Audit. This is simple and can be completed on your own. It is a wander through of your facility where you will answer yes/no questions about general layout. Once you have completed these/received them back, please hang onto them until meeting two, when your Coach will advise you on how to perform the document upload.
For your Second Meeting:
Please complete all audits built within The Guard as instructed by your Compliance Coach.
Please be sure to complete the External Audits sent to you by your Compliance Coach.
Come your next session you will be shown how to load these back to The Guard.